Hello writer bugs!
Get your magnifying glasses ready, cause we are hitting the pavement and looking at clues for your next murder mystery. What's a whodunit without some hard hitting evidence? First, let's talk about the three types of clues that are involved in a typical mystery.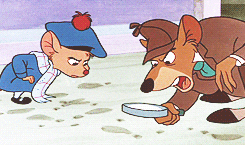 Physical Evidence
Probably the most likely of evidence, these are the tangible clues. Something left behind at the scene of a crime? Or a blood stained murder weapon? Or even a piece of DNA, like hair or fingerprints? These are the clues the detective can touch, hold and smell. The kind of evidence they can physically interact with.
Thematic Evidence
As writers, we often throw readers a bone in the form of hints. While a bit cliché, tense situation tend to happen during stormy nights. Villains often wear dark colors. As the audience progresses through the story, they sense those little nuances you establish. Like the story itself is holding up signs in the background.
Verbal Evidence
Not only is who said what important, but what is not being said. Body language and social cues come into play. What is the tone of a suspect's voice? What is said in an argument or a secret whisper? How do they react during a murder investigation. Sometimes, mysteries become a game of questions and answers.
Mistakes to Avoid
So planting clues can be tricky. You don't want them to be obvious with a big neon sign, nor do you want then to be completely hidden. Finding the right balance is critical. Here are some pitfalls to steer away from.
| | |
| --- | --- |
| The Overused to Death | The hackneyed clues that are so overdone, they're never taken seriously. Accidently revealing secrets, victims writing their last message in a pool of blood. |
| The Overcomplicated | Clues written in some bizarre code never fly too well. Evidence that requires something to be deciphered take up a lot of time. Also, their highly unrealistic. A murder mystery isn't exactly an escape room. What criminal takes the time to leave his plans in Morse code? |
| The Obscure Trivial Pursuit | Consider what is common knowledge for the average reader. Obscure trivia can be a hindrance. Be sure to give the proper information behind the evidence. |
| The Obvious Lies | A detective cannot lie to it's audience. In the midst on an investigation, an object can not be one thing, then mistaken for something else. Detective's must be forthcoming. |
Hope this helps you guys in your mystery writing pursuits. Be sure to check out this week's prompt as well as the post on Ronald Knox's Rules of Detective Fiction. Have a lovely weekend, amateur sleuths!
Write with Heart,
Lady Jabberwocky