Hello hello writer bugs!
You know, this holiday season is driving me crazy. After nearly getting trampled at the mall and doing some serious Christmas shopping, I want to relax in festive pajamas.
For this week, let's keep things lighthearted and fun, shall we? A while ago, I talked about how important it is to be versatile as a freelancer writer. In this line of work, you never know what you'll get. Clients can ask for anything. Assignments can be sometimes strange, in a good way.
Here are some humorous examples of topics I've had to write for clients, to bring you some holiday joy and laughter. Hope you enjoy!
Fun Facts About Peter Pan
Wow. Way back in the days of an internship, I was charged with writing about all things Disney. And I loved it. Sometimes, I'd write a list of "fun facts" about iconic Disney characters or movies. Like Fun Facts about Peter Pan. (Also Fun facts about Minnie Mouse, Fun facts about the Little Mermaid, etc.) Although I'm still not sure who'd be interested in articles like that, except for trivia buffs, I researched a ton to dig up some interesting facts. Did you know that Walt Disney played Peter Pan in a school play? Yeah, neither did I.
Nightwing Meets Magilla Gorrilla
When I used to write comic book reviews for a certain website, each week would be a new issue to critique. Series like Nightwing, Birds of Prey, Hawkman and the Silencer, for all the comic nerds. About once a year, DC Comics partners with Hanna-Barbera in fun crossover episodes. Guess what I was assigned? Nightwing meets Magilla Gorrilla. A classic, really. You don't want to know how many monkey puns were used in the writing of that review. It's not that it was a bad comic (the two team up to solve a mystery together), it's that I never thought I'd see my favorite hero paired up with a gorilla in a campy special. Nor did I imagine I'd have to write about it.
Baby Shark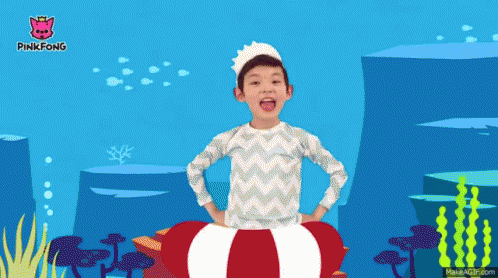 This one takes the cake for the strangest topic I've ever had to write about, hands down. Yes, I wrote an article on viral sensation Baby Shark. 1000 words to be exact. It was for some random guy who claimed to have a music website and wanted to "keep up with the trends".
For the record, I never watched the video up until this point, because I'm not a toddler. Let me tell you how thorough this piece was. I researched the origins of baby shark, explained the video in painfully vivid detail, and discussed it's impact and legacy in pop culture. And I had that 'baby shark doo-doo-doo-doo-doo' song stuck in my head.
Moral of the Story
Expect the unexpected. A job is a job, no matter how odd. Us freelancers have to stay flexible, even if the topic comes out of left field. And believe or not, looking back on those articles still brings a smile to my face. So If someone asks you to write an article on the history of chocolate chip cookies, you should just shrug and say "Sure, why not? Whatever floats your boat."
For my fellow freelancers out there, what are some strange orders you've been asked for? Talk to me in the comments.
Write with Heart,
Lady Jabberwocky