Hello Writer Bees!
Hope you all are staying safe and keeping creative.
Last week, I opened the floor for your questions, to celebrate 4 year blogging anniversary. The pessimist in me assumed no one would ask me anything, but thankfully I was wrong. You guys never cease to amaze me. I received some awesome questions from you guys.
One question came in from Raymond Oickle.
Congrats on your anniversary. As a fellow blogger, there are times the well goes dry… the dreaded "writers block"! Has this been a problem through your blogging years, and if so, what do you do when it happens?
Has writer's block ever happened to me? No, never, I'm a constant a waterfall of inspiration.
Of course it has. It happens to everyone. And when it does happen, it's important to not be hard on yourself. Everyone has crawled through that desert at some point.
How do I get through it? Here are three ways I get through blogger's block.
Themed Months and Posts
Challenge yourself to a themed month of posts. They're fun to do and if done right, will be well received by your readership. I've done this before with May of Mystery, a month dedicated to mystery themed posts. And between you and me, I'm already considering another themed month in the near future. Maybe stop by around Halloween to see what genre it is (wink wink).
I'll give you an example. A few weeks ago, I posted a writing prompt about a specific setting; The ocean. Since it was well liked, I decided to continue the theme and post setting-themed prompts the rest of this month. The city, the forest, outer space. That's like 3 posts scheduled and ready to go right there. One post inspired a batch of other posts. Didn't plan that ahead a time, it's a theme that stumbled in and I just go.
When you give yourself a specific theme to play in, ideas happen. If you've stuck in writer's block, try a themed set of posts related to your topic.
Take a Break
I just had a mental health break for this blog. Stepping away from blogging was pretty relaxing. Sometimes, your brain needs a rest from posting schedules and statistics. And since I wasn't stressing about what to post on Friday – slowly, but surely – a creative flow returned. A couple of post ideas graced me with their presence. It doesn't always need to be a full length vacation. Once in a while, I just do something else, something other than blog writing. Like take a walk, or watch a movie or bake vegan oatmeal cookies.
From my perspective, there's a ton of pressure on bloggers to consistently create content for their audience. That pressure can wear you down after awhile. It's important to listen to your brain and take a break when you need to. Don't worry, ideas will come back and the readers will stick around.
Remembering my Audience and my Purpose
Always, I keep in mind my readers and my reason for blogging; to encourage others in their creativity. So usually I ask myself questions tailored to that purpose. What tips would a writer find useful and how do I explain them in a conversational way? What would I want to know if I was starting out as a freelancer, or struggling with my creative work? Questions like that often lead to ideas for blog posts.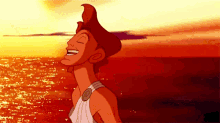 Also, some posts are about my journey as a writer. During my writer adventures, I scribble down things I've learned about writing. If I experience something while working my WIP, I wonder "Is it just me or do other writers go through this too?" And then I write a post about that part of the writer journey. I'm honest about the ups and downs of a writer's life, and because of that, I can connect with fellow writers.
When brainstorming blog ideas, I remember what I want to give my audience, whether that's a writing tip or a story or a laugh.
The Comments Section (Bonus!)
A bonus tip? What a surprise. Frankly, my readers are awesome. Some leave me these sweet, supportive comments that really make my day. And others, they leave questions. Writer working on their creative projects ask me for advice – which is flattering. I hardly see myself as some expert. I'm just a lowly writer trying to help others. I like to listen to what the audience is interested in learning about, what they're struggling with. That's how I go about creating content. Several posts, including this one, have been inspired by real queries asked by real aspiring authors.
When in doubt, check the comments.
---
Hope this answered your question about blogger's block. For my fellow bloggers out there, how do you handle writer's block? How do you come up with ideas for posts? Share your tips in the comments. I love to hear from you.
I'm ready to return to regular Friday posts again. I missed blogging. I just need to be more mindful of my stress level and mental health. Think we all do. Thank you for all the positive vibes and support during my break. I appreciate each and every single one of you.
Stay safe and keep writing.
Write with heart,
Lady Jabberwocky